There's some good news for small business marketers, According to Michael Stelzner, Small business owners are seeing the greatest results from social media marketing, especially those who commit 6 hours a week to it. For those who don't have those 6 hours themselves, a social media manager is the way to cover this essential marketing activity.
Here are a few key points from his report…
In a study of 3342 marketers, 47% of whom were either self-employed or small business owners, he found the following: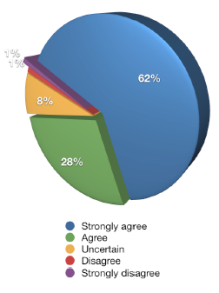 "Is social media important to your business?"
Social Media Is Becoming More Important
Over the course of the last 3 years, Stelzner has seen social media move from an uncertain strategy (2009 report) to a permanent fixture (2010 report) to a primary tool (2011 report) in the savvy marketer's toolkit.
No-one has benefited more than small businesses.
Ninety percent of those surveyed agreed that social media is important to their business. The report reveals that the self-employed (67%) and small business owners (66%) were more likely to strongly agree with this statement.
Top Benefits for Small Business Owners
Almost all marketers find that social media helps them stand out in an increasingly noisy marketplace. In fact, 88% of all marketers found social media helps get them increased exposure. Additionally, 72% of those surveyed saw increased traffic and subscriptions as a result of social media.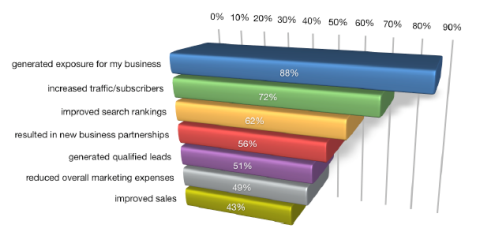 This chart highlights the top benefits identified by all marketers.
Small business owners were more likely than all other groups (89.2% reporting benefits) to see increased exposure.
Here are some other areas where small business owners saw greater benefits than their peers:
The self-employed and small business owners were more likely to report new partnerships, with at least 59% noting a benefit.
Small businesses were twice as likely to find qualified leads than other types of businesses.
Forty-eight percent of self-employed and small business owners saw improved sales as a direct result of their social media efforts.
The self-employed (59%) and small business owners (58%) were more likely than others to see reductions in marketing costs when using social media marketing.
Time Investment Pays Dividends
Small business owners have many demands on their time. For most of them, marketing is just one of a dozen hats they wear.
Like last year's report, the 2011 study showed that those who were most successful invested more time in their social media activities – the big question is how much time is required?
This can be answered in two ways:
The power of endurance—those with 3 or more years of experience in social media marketing are seeing the greatest results. For example, only 25% of those just getting started in social media saw new partnerships form, as compared to 80% or more of those with 3 or more years of experience. So marketers shouldn't make snap judgments on the value of social media after only a few months. Give it some time!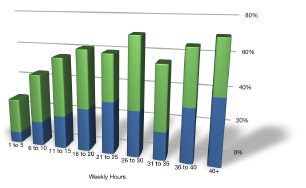 It doesn't have to be all-consuming. It may not take as much time as you fear. In fact, 75% of those spending as little as 6 hours per week on social media marketing saw increased traffic.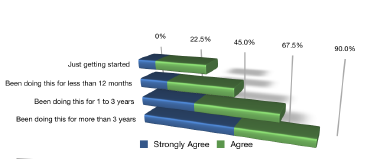 Likewise, those who spend at least 6 hours per week are almost twice as likely to see leads generated as those who spend 5 or fewer hours.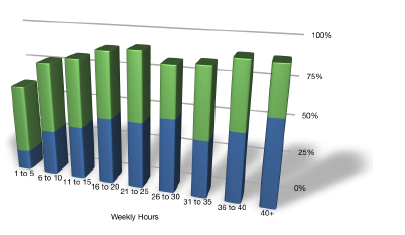 While the study didn't draw any firm conclusions on how much time marketers should spend, there's clear evidence that those who commit at least 6 hours per week will see significant rewards for their investment.
Now if you think you can't find those 6 hours, the way forward may be a freelance social media manager who can put those hours in for you. With an agreed strategy, it is possible to set goals and metrics that success can be measured against.
If you're a small business owner, do your results agree with this report? Where do you plan to invest your marketing energies this year? Please leave me your comments in the box below.
See the full report here 2011 Social Media Marketing Industry Report