How we helped this B2C business add £270K to the bottom line
Case Study : B2C marketing – Social Media Marketing, Video Marketing & integrated offline Marketing
Client : Simon Miller & Company
The brief :
Simon Miller & Company is an estate agency chain of 10 branches based in Kent. The company competes in an extremely competitive B2C market – estate agency & property investment. They compete with 9 estate agents in the high street where their HQ is based. In addition, they run offices specialising in investment in the UK and overseas and period properties for sale. This case study is about standing out in a crowded market sector.
Saucy Horse digital marketing pitched a B2C marketing strategy with a number of ideas, aimed at dismantling common beliefs about estate agents. It included concepts that were aimed at helping this business to stand head and shoulders above their competitors. Their audience is within a specific territory – Maidstone & The Weald of Kent, with a wider target base for the other parts of their business related to investment
2. The Company Brand Builder : Move With Miller – watch it here. https://vimeo.com/80208785
We think it speaks for itself  – 14,246 views on YouTube for an estate agent based in Maidstone, and for a marketing campaign that was very localised, is an impressive result.
More importantly, the story behind the making of the video was featured in the local newspapers both in print and online, and the managing director was interviewed by a number of publications whose readership matched the company's prospect and customer persona profile perfectly.
PR & Brand Builder – 6 videoettes: All estate agents are not the same.
These were featured via a column in the local newspaper – and were released one a month over a 6 month period targeting our client's demographic perfectly.
Community involvement : Maidstone United sign up offer : http://stonesoffer.co.uk/
Social Media :
Our blog for Simon Miller & Company is updated 3 times a week and has had over 14,000 page views this year (2015)
Simon Miller & Company – Property Blog
This recent blog received 69 re-tweets alone when it was posted on Twitter – a good example of social activity driving traffic to your online assets.
Pinterest
Take a look at the boards we create here http://pinterest.com/welovehouses/
Youtube
YouTube Analytics:
Simon Miller (WeLoveHouses)
Performance
VIEWS: 21,025
ESTIMATED MINUTES WATCHED: 5,067
SUBSCRIBERS: 187
Radio
We produce and run radio ads on local Kent stations and we also receive regular features in advertising and editorial in the published and online magazines of local newspapers. In addition to running the radio ads we make video versions and then post on our blog as well as embed in email campaigns to further increase their distribution amongst the client's target audience.
Radio commercial blog – Simon Miller & Company
PR
Simon Miller & Company have recently been asked to be the subjects of a TV programme about the business, commissioned by Channel 4 – we were approached over other estate agents, as the producers had picked up our activity on social media and liked the style of our profiles and videos. Simon Miller appears regularly in Homes Under The Hammer on the BBC as a local expert, which further raises the visibility of the business. We edit these appearances as video clips and include these in our newsletters which we send out to our clients and prospects via email shots.

3. Numbers & Results:
Cost of one year's videos: £4500
Cost of Social Media Marketing & PR for 12 months : £24,000
PR & Exposure: Regularly lauded by local community groups, businesses and organisations for their support of community events and issues. Sponsorship of Maidstone United – huge profile builder in Maidstone and amongst a sector of their target audience. Charity mentions and social exposure. Sponsorship of local community events publicised on social platforms. Regularly called by journalists for quotes, mentioned in the presence of other accepted industry experts on Twitter. Regularly appearing on Homes Under The Hammer as the BBC's expert for Maidstone. Opportunity to appear in a Channel 4 documentary about behind the scenes at an estate Agent, because the Production Company liked the edgy, interesting and sometimes controversial style of Simon and his team on the social media streams which are managed by Saucy Horse.
Social Media Success – asked to guest blog on the Rightmove property blog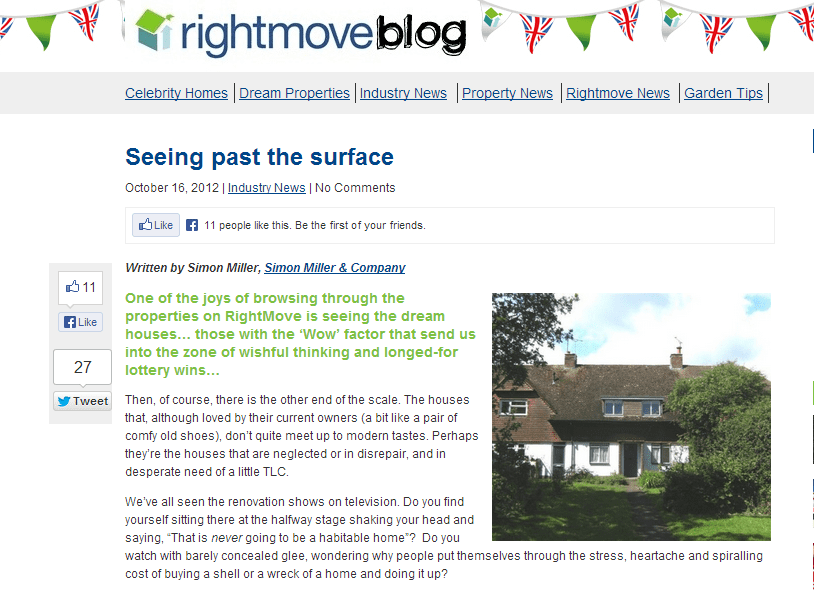 Rightmove – Guest blog by Simon Miller & Company
Benefits : Strong selling point to use in their marketing – encourages vendors to give their instruction to this agent as opposed to any other in the area, as they are independently rated by industry experts and very active on social media – a cursory check from any prospective vendor would illustrate how Simon Miller & Company are bossing this area of B2C marketing for this particular sector in their territory.
Organic SEO :
Ranking on Google for "Best Estate Agent in Maidstone" – 1st
Ranking for "Estate Agent in Maidstone" – 1st
What value can you put on appearing first for your number one keyword?
Business numbers : The upshot of our marketing activity with Simon Miller & Company over the last 3 years is a continued growth in the client's business with a £500,000 increase in turnover this year (year on year) and an increase in profitability – from 10% in 2011 / 2012 to 16% in 2012 / 2013. In fact, in 2010/2011 when we started work with Simon Miller & Company, they had just made a loss of £150,000. In 3 years as their marketing partners we've been able to contribute to the success that they are making of their business, moving it into the black and an increase in profits of over £270,000.
Next Case Study : The Jockey Club
Sign up for an email alert when our next case study goes live: